Aretha Franklin:  The Passing of A Queen's Reign
As we know, the legendary, Queen of Soul, Aretha Franklin passed away on August 16, 2018.  In spite of Ms. Franklin being a woman very well acquainted with heartache and heart break, or perhaps because of it, we very were blessed to enjoy decades of beautiful music from this wonderful songstress . . . Aretha Franklin; may she rest in peace.
Author, Gregory May & "Jefferson's Treasure"
In the program's second hour, Reverend Craig is joined by guests, economist, Gregory May, an internationally known tax expert and former Supreme Court law clerk with his new book, "Jefferson's Treasure:  How Albert Gallatin Saved the Nation from Debt".  In this Jefferson economic biography, discover the remarkable immigrant who launched the fiscal policies that shaped the early Republic and the future of American politics.  Not Alexander Hamilton—Albert Gallatin. To this day, the fight over fiscal policy lies at the center of American politics. Jefferson's champion in that fight was Albert Gallatin—a Swiss immigrant who served as Treasury Secretary for twelve years because he was the only man in Jefferson's party who understood finance well enough to reform Alexander Hamilton's system. A look at Gallatin's work—repealing internal taxes, restraining government spending, and repaying public debt—puts our current federal fiscal problems in perspective.
"Outrage, Inc.":  Where Everything Liberal Is Great, and Everything Great Is Liberal!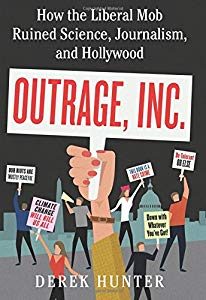 From entertaining and political writer, Derek Hunter, comes his new insightful, alarming look at how progressives have taken over academia, pop culture, and journalism in order to declare everything liberal great, and everything great, liberal, in his new book, "Outrage, Inc.".  Author, Derek Hunter is Washington, DC based writer whose column appears twice weekly, Thursdays and Sundays, on Townhall.com and also serves as contributing editor at The Daily Caller. His writing has appeared in the Washington Times, Detroit Free Press, Baltimore Sun, and more than 150 other newspapers across the country. A former talk radio host, he has previously worked at the Heritage Foundation as an analyst in health policy as well as for Americans for Tax Reform on technology and judicial policy. He also serves as a press secretary in the US Senate. You can find him on Twitter at @derekahunter.