Reverend Craig serves up a hot program with guests, Dr. Michael Guillen and Jaimie Glazov, and updates on the upcoming Winter Fundraiser Meet-and-Greet, your phone calls, and more!
Michael Guillen & "The End of Life As We Know It"
In the first hour, scientist Dr. Michael Guillen Takes on Man's Eeriest Advancements.  Michael Guillen, author of "The End of Life as We Know It: Ominous News from the Frontiers of Science" is an award-winning Harvard physics instructor and ABC News' Emmy award-winning science correspondent.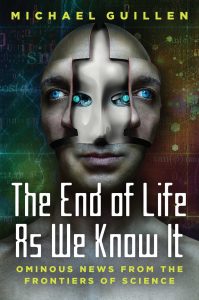 In every aspect of life, man is crossing lines of no return.  Advances in science, medicine, engineering, and technology go beyond anything we have ever seen before, but "progress" in science and technology is not without grave consequences. In labs all over the world, today's advances threaten to fundamentally change the practical character and ethical color of our everyday lives.
Dr. Guillen takes us on a mesmerizing journey behind today's blaring headlines, examines scientific advancements beyond what we want them to be, and exposes them for what they have truly become.
The End of Life as We Know It takes a penetrating look at how the scientific community is pushing the boundaries of morality, and explores:
• Scientists who detached the head of a Russian man from his crippled, diseased body, and stitched it onto a healthy new donated body.
• Fertility experiments aimed at allowing designer babies to be conceived with the DNA from three or more biological parents.
• The unprecedented politicization of science – for example, in the global discussion about climate change that is pitting "deniers" against "alarmists" and inspiring Draconian legislation, censorship, and legal prosecutions.
• The integration of Artificial Intelligence into communications and the economy.
The End of Life as We Know It takes us into laboratories and boardrooms where these troubling advances are taking place and asks the question no scientists seem to be asking:  What does all of this mean for the future of humanity?
Jaime Glazov and "Jihadist Pyschopath"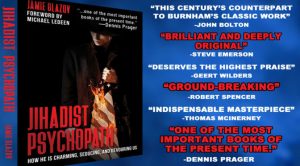 "There is a war being waged on America and the West. The aggressors? Islamic Supremacists. Their method? Duplicating the sinister methodology of psychopaths who routinely charm, seduce, capture, and devour their prey."  
In the second program hour, Jamie Glazov, managing editor of FrontPage Magazine (the online publication founded by David Horowitz) drops in with new book, Jihadist Psycopath.  Jaime specializes in Soviet Studies, US and Canadian foreign policy, and he hosts the Web TV talkshow called "The Glazov Gang".
In "Jihadist Pscyopath", every element of the formula by which a psychopath subjugates his victim, the Islamic Supremacist likewise uses to ensnare and subjugate non-Muslims. And, in the same way that the victim of the psychopath is complicit in his own destruction, Western civilization is now embracing and enabling its own conquest and consumption.
Jihadist Psychopath offers a glimmer of hope. Can the victim wake up to how the psychopath is using and manipulating him, and break free? Glazov discusses that at length as well detailing why it is a most difficult and delicate operation. But in this extraordinary book, he has at least shown the patient why the operation must be performed, which is the first step toward snapping this apparently suicidal civilization out of its delusions.
Jamie Glazov holds a Ph.D. in History with a specialty in Russian, U.S. and Canadian foreign policy. He is the editor of Frontpagemag.com, the author of the critically-acclaimed, United in Hate: The Left's Romance with Tyranny and Terror, and the host of the Web-TV show, Glavoz Gang.  Follow him on Twitter @JamieGlazov and connect with him at jamie@glazov11@gmail.com.
(*To learn how President Trump's National Security Adviser, John Bolton, has praised Jamie Glazov's new book click here.)
Update on The First Amendment, Inc. Winter Fundraiser, 12/15/18
Thank you for viewing "The REALLY Real Deal, w/ Reverend Craig The Hatchet Man".  Please SHARE and visit us often.
Next week's program, 12/15/2018, will be live from our First Amendment, Inc Winter Fundraiser, which will help us buy airtime to go 5 days a week, (in the Michael Savage time slot in Central Virginia), and to purchase new equipment for broadcasting FROM anywhere TO anywhere (perhaps in YOUR town).
We will be at our offices in the Virginia Christian Alliance building located at 8659 Staples Mill Rd. Richmond, Va 23228, 10am -12pm broadcast time, and 12pm – 2 pm for food, fun, and fellowship.
All are invited. RSVP here.  If you can't make it, please consider a generous and appreciated donation, payable to The First Amendment, Inc., mailed to The First Amendment, Inc., 8659 Staples Mill Road, Richmond, VA  23228.  You can also conveniently visit our secure donate portal here.
God bless you, and thank you, Hatchet Nation, for your support!  I look forward to seeing you next Saturday.
-Reverend Craig