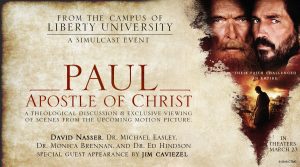 Just a reminder that "Paul, Apostle of Christ", starring Jim Caviezel, Olivier Martinez, and James Faulkner, opens this weekend!  The good news is that the film will open in wider release than initially planned, which will make movie attendance easier.
For more information about the movie, visit the  "Paul, Apostle of Christ" website to find a theater in your area, buy tickets, learn about the movie and cast, and much more.  Let's spread the word and share this movie with family, friends, and anyone that could benefit from its witness.
Get a sneak peak about PAUL APOSTLE OF CHRIST in the video below:
Also, "Paul, the Apostle of Christ" opens on Friday, 03/23, and will play for a minimum 2-week duration and be held over, based upon audience demand, so I highly encourage you to see the movie over the next few weekends so that it receives as much demand as possible. 
During this holy Easter season, let's be sure to spread the word, as this film could just be the "soft witness" someone needs.
God Bless,
Reverend Craig