Accolades to Rep. Louie Gohmert for that Strzok Spanking
Reverend Craig shares commendation for Rep. Louie Gohmert for his "Strzok spanking" during the recent Strzok congressional hearing, worthy of "Hatchetnation's" Golden Hatchet Award.  During the Strzok hearing, Congressman Gohmert (R-Texas)  stood tall and strong in exposing lies and extolling truth as he cross-examined  Strzok for being such a professional liar. Gohmert refused to back down on pursuing truth, and set the example of what's needed in this nation – strong men.
Joseph Tartakovsky & The Lives of the Constitution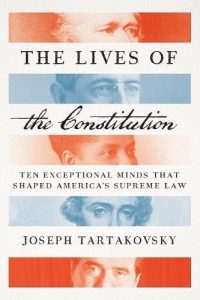 In the second hour, author Joseph Tartakovsky shares his new book, The Lives of the Constitution; a fascinating blend of biography and history, which tells the epic and unexpected story of our Constitution through the eyes of ten extraordinary individuals—some renowned, like Alexander Hamilton and Woodrow Wilson, and some forgotten, like James Wilson and Ida B. Wells-Barnett.  From the 1787 Philadelphia Convention to the clash over gay marriage, this is a grand tour through two centuries of constitutional history as never told before, and an education in the principles that sustain America in the most astonishing experiment in government ever undertaken.  Joining the ranks of other great American storytellers, Tartakovsky chronicles how Daniel Webster sought to avert the Civil War; how Alexis de Tocqueville misunderstood America; how Robert Jackson balanced liberty and order in the battle against Nazism and Communism; and how Antonin Scalia died warning Americans about the ever-growing reach of the Supreme Court.Tartakovsky brings to life their struggles over our supreme law from its origins in revolutionary America to the era of Obama and Trump.